Wilderwoman Country Store
Purveyor of Fine Art & Fabulous Finds from Far & Near
… more than just a country store...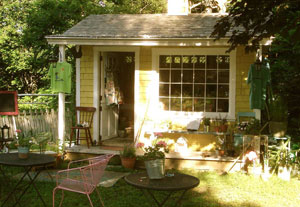 Our Wilderwoman Country Store features an eclectic mix of fine art by the two artist owners, us, Peyton and C.K. Higgison, as well as local comestibles and all natural utilitarian products for home and body, tiny treasures for the young at heart and unique but practical items that appeal to the wilderwoman in everyone.
Our shop is located in our driveway at 613 River Road in Brunswick, Maine. We are open July - October 15, Thursday through Sunday, by appointment, by chance or when the spirit moves us to put out the flag. You are always welcome to give us a call and see if you can stop by - 207-751-7145. More likely than not one of us will be available to open it for you.
A partial listing of our fabulous finds, besides our own paintings and prints include:
Wilderwoman.com exclusive "R U Man Enough for a Wilderwoman" tees for men and women
Love for Lemons all natural cleaning products for home, made on the coast of Maine
Locally roasted Moses Dyer Coffee beans
Brunswick bottled Lemon Sting Soda
White-pepper shortbreads from Yellow House Cookies
Paraben-free body care products from Love and Toast
Seasonal jellies and jams
Bawdy Botanicals body balms made in Bath, Maine
Jill Ross originals
Standard Bakery breads and pastries on selected Sundays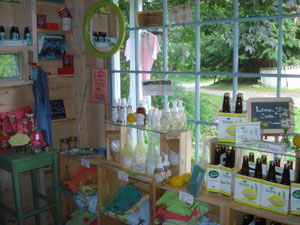 And many more assorted and unique finds.
When in Maine do stop by.
Peyton & Chaké Higgison
Proprietors